Top 10 Birthday Gifts For Grandpa
Looking for a perfect birthday gift for your Grandpa??
Sandra Clark
Giftfantasia user.
Looking for a perfect birthday gift for your Grandpa?? You will have to think of unique and suitable gifts for your grandparents. Searching for grandma's gift might not be that difficult, but looking out for grandpa can actually get difficult. I have come up with some exclusive gift items that can be presented especially to your grand dad. The Top 10 Gifts listed below is not in a particular order and it covers various price ranges.
If you are looking for the perfect "one knife fits all" solution for your special grandpa, your search ends here with this knife. A perfect tool that he will love!
For grandpa's who loves exclusive gifts, the docking station for their iphone is just the right thing! All the docks are equipped with USB cables that give lifetime guarantee! They are fashionable and brilliant. Also, the perfect holder for his glasses,
Decorative solar lights will make a perfect gift for your grandpa's garden or patio. They are uncomplicated and simple to install. They don't require any electricity or wiring. A very elegant home décor piece too.
Mugs are an all time favorite. They are highly affordable and you will always be with them for tea! You can decide on some mugs with grandma and grandpa written on them. With this memorable present, in a way, you will always be with them. A Family glassware set will also make a great gift.
A stylish walking cane, can add to your grandpa's personality and make him look cheerful and on the go. Walking cane makes great gifts for grandpa's who have slight difficulty in walking.A key-finder is a perfect gift for grandpa's who tend to forget their keys anywhere!
For the grandpa who loves gardening, garden tool kits make great gifts. It keeps them occupied and they add to the beauty of the garden.  A terrarium also makes great gift for nature lovers.
Puzzles, especially math puzzlesare something to look forward to and loved by all. Great puzzles will help your grandpa keep his mind busy and will also keep him occupied!
The "Take Your Pills" Talking Alarm Clock reminds your grandparents to take their medication with a friendly voice up to 4 times a day. It's a great gift idea for grandparents as their health is very important and anything that reminds them about their medicines cannot be wrong.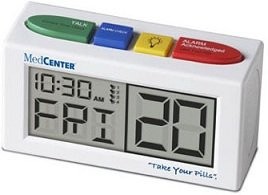 If you grandpa is a beer lover, the various items below will make him go wild. From gift baskets to soaps, he will name it and you will present it!
 A Universal Remote Control can simplify things for your grandpa. You will definitely agree with me, that he doesn't like a remote for everything. The one for TV, the one for internet, the one for the home theatre or for the DVD player at home! So, to make things easier for him, let all the gadgets have one universal remote control. A Tool Kit Is a first-class present for the Granddad who likes fixing everything around.  The tool kit will help him fix anything and everything!  A simple tool kit for your granddad is a great idea.
Gifting your grandparents is really important as they are in their old age and you would want them to be comfortable and happy.