Ceramic Bee Mine mug with black interior. Includes gift box. 3 1/2"H X 5"W X 3 1/2"D. Holds 13 oz. View larger image MUG BEE MINE Dishwasher safe/FDA approved/Microwave safe.
Specification:-
- Design: Red mug with hearts and a bee on it and a "Bee Mine" message
- Size: 3 1/2"H X 5"W X 3 1/2"D. Holds 13 oz.
- Material: Ceramic
- Dishwasher/Microwave safe, FDA approved
About Burton & Burton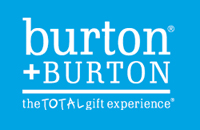 The Best in Service, Selection & Satisfaction®, was founded in March of 1982 by Maxine Burton under the name Flowers, Inc. Balloons® as the balloon division of a retail and wholesale florist (Flowers, Inc.). Following that time, the company has become the nation's leading supplier of balloons and coordinating gift products.
The name changed to burton + BURTON™ in January of 2006 to reflect the combining of the two divisions, Flowers, Inc. Balloons® and Burton & Burton®. With an international customer base, over 15,000 different products, and 300 employees, the company is eager to serve you. Whether this is your first visit to our website or you are a long time friend, welcome to our family.
We invite you to visit our showroom located at our company headquarters in Bogart, Georgia. Our Bogart Showroom is open during regular business hours. Driving Directions are available. We also have permanent showrooms in Atlanta, Dallas and Las Vegas. Click here for our trade show schedule.